TrueQ's Hacker News joyride
2nd October 2020
Last weekend was pretty exciting for us. We did the first steps to share TrueQ with people outside of our private bubble and had some success with it on Hacker News. Read on if you want to know more about
our Hacker News article
and what we've achieved with it. 😊

☕️ Introduction
About a month ago we've launched TrueQ. We've presented it to our friends and family and also released some new features in between. We were ready for stepping out of our private bubble and reach more people. First we started creating accounts on popular social media platforms like
Twitter
,
Instagram
and
Facebook
. We started engaging with other developers on Twitter and posting Instagram posts with appropriate hashtags. We reached some people, but wanted to go a step further, reach more people faster, so we had to try something new.
💡 How Hacker News came into our mind
We stumbled upon
a blog post
from
Sahil
, the founder of Gumroad, where he describes his journey of creating his first startup. He tells everything from the weekend where he has built the first MVP to building a company with twenty employees. What was very interesting for us was, that he reached out to Hacker News with a post about his MVP. Over 52.000 people were visiting his website on the first day. Wow! 😱 We already heard a bit about Hacker News before, but had absolutely no real knowledge about it.
🤓 How does Hacker News actually work?
We've started to gain more insights how Hacker News works. Just to give you a short introduction: you create a post and it will available on the "new" section of Hacker News. Only the real Hackers 😜 are there, searching for new exciting stuff and upvoting it if it is really interesting. As soon as your post has gained some upvotes in a specific amount of time, your post will be taken to the front page of Hacker News where you will gain a decent amount of traffic. So it is a viral effect. If your post is interesting and the people vote it up, even more people will see your post and probably also vote it up again. But if nobody votes (and that could also be because of bad timing) your post will vanish in the Hacker News nirvana - how sad.
So we gained more knowledge and even stumbled upon some articles how to "trick" the Hacker News algorithm in order to get on the front page and gain some heavy traffic. But for us it was pretty sure that there are no real tricks. We just need to try it, present TrueQ to the Hacker News and see if it works out - if we can do the first steps outside of our private bubble with it.
😔 The first disappointment
So we started preparing everything we needed for our Hacker News post: a catchy title and a nice description text about TrueQ. We decided that we want to tell the community about us, our journey and of course also about the platform we've built (instead of a straight advertisement text). We asked them for honest feedback.
As soon as we were ready with our preparations (which also included the release of our question overview page) we've posted our story on Hacker News. It was on Thursday evening and we followed our post on the new-section of Hacker News. Minutes vanished too fast, we've spammed the F5 key, our post went down faster and faster, we gained no upvotes, not even a single one. We decided to go to sleep and check back again on the next day.
So on Friday morning we checked our post. Still no upvotes, not on the first page of the new-section anymore, hello Hacker News Nirvana! 👋 We thought that it may was a bad timing, may the title was not that catchy, so we tried again with another title. Again on the news page, spamming F5. 10 minutes later we had our first upvote. Whoop! 20 minutes after posting our second upvote. Did we make it? Is our post going viral? Sadly not. The post didn't gain any more upvotes and went straight to the Hacker News Nirvana again. As you may think we were quite disappointed. Maybe about 10 - 20 users accessed TrueQ, but no real interactions were made. Because of what we've heard about Hacker News we had expectations that it could at least help us reaching out to more new users. We didn't expected to reach 50k users, but at least some hundreds of visiting users and maybe also some registrations would have been nice. On Saturday morning we've posted another variation of our post, but again no upvotes. At this point we were thinking if Hacker News would really help us in our current situation. Maybe it wasn't the time yet and we already searched for alternatives were we could reach some new users. But then we suddenly got an unexpected email.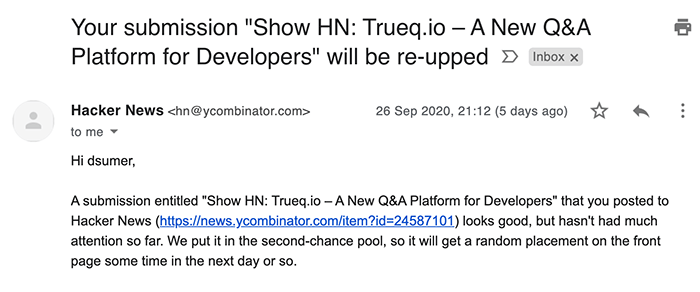 🎯 Being elected for the second change pool
Uhm what? A second-chance pool? Our post will be on the front page of Hacker News? How awesome!!
After reading the email we went directly to Hacker News to see what's up with our post. We saw that it was already on the front page, nothing like "in the next day or so". It was there immediately after receiving the mail, no time for preparations, our HN joyride began.
😱 Feeling the HN dopamine boost kicking in
It is a really exciting feeling when your post is on the front page of HN. You know that thousand of peoples are on the front page of HN and could actually click on your link, which in our case directly redirected the users to TrueQ. Now our F5 keys really suffered. Dopamine rushed through our veins when we saw hundreds of users were visiting TrueQ via HN.
🤝 People are engaging on TrueQ
It was such a nice moment. The people were commenting on our HN post, giving us honest feedback for TrueQ and meaningful discussions arised. But we were completely outta control when the first question of a newly registered user was created on TrueQ.
Someone really registered and asked a question on our platform. And it didn't stop there. User answered open questions, commented stuff and reacted on various contents. Actions like this are breathing life into TrueQ and this gave us an extra motivation boost for the upcoming development of TrueQ.
In this moment we felt pure thankfulness. For the HN moderators, which gave us a second chance presenting ourselves and of course the HN community itself for providing honest feedback and engaging on our platform.
🧮 Aftermath
So from Saturday Evening to Sunday Evening our post was on the front page of HN several times. It also went down to second and third page sometimes, but then it went again straight to the front page giving us more awesome traffic.
Here are some numbers of what we've achieved in this time:
👁 4.500 visitors
🤩 42 upvotes on our HN post
🎉 100 registered users
😍 3 questions, 5 answers, 4 comments directly on TrueQ from newly registered users
💡 plenty of feedback
🏄🏽‍♀️ Summary
So this was the story about our Hacker News joyride. For us it was very exciting and we are so thankful for the free traffic and all the feedback and engagments which arised on TrueQ. After first disappointments, HN just exceeded our expectations. We wanted to step out of our private bubble and reach the first bunch of users there - we absolutely achieved this. It showed us again to never give up too early, keep your head high and move on with the things which seem right to you.
Now we are going to end this blog post. Stay excited for the upcoming TrueQ features, we are continiously improving it and are sure that you will like with what we are coming up in the next weeks and months. We would appreciate if you also start engaging on TrueQ. A good start would be for example, if you use it as a personal knowledge base. 😊